NJ Family CIS: Family Law Software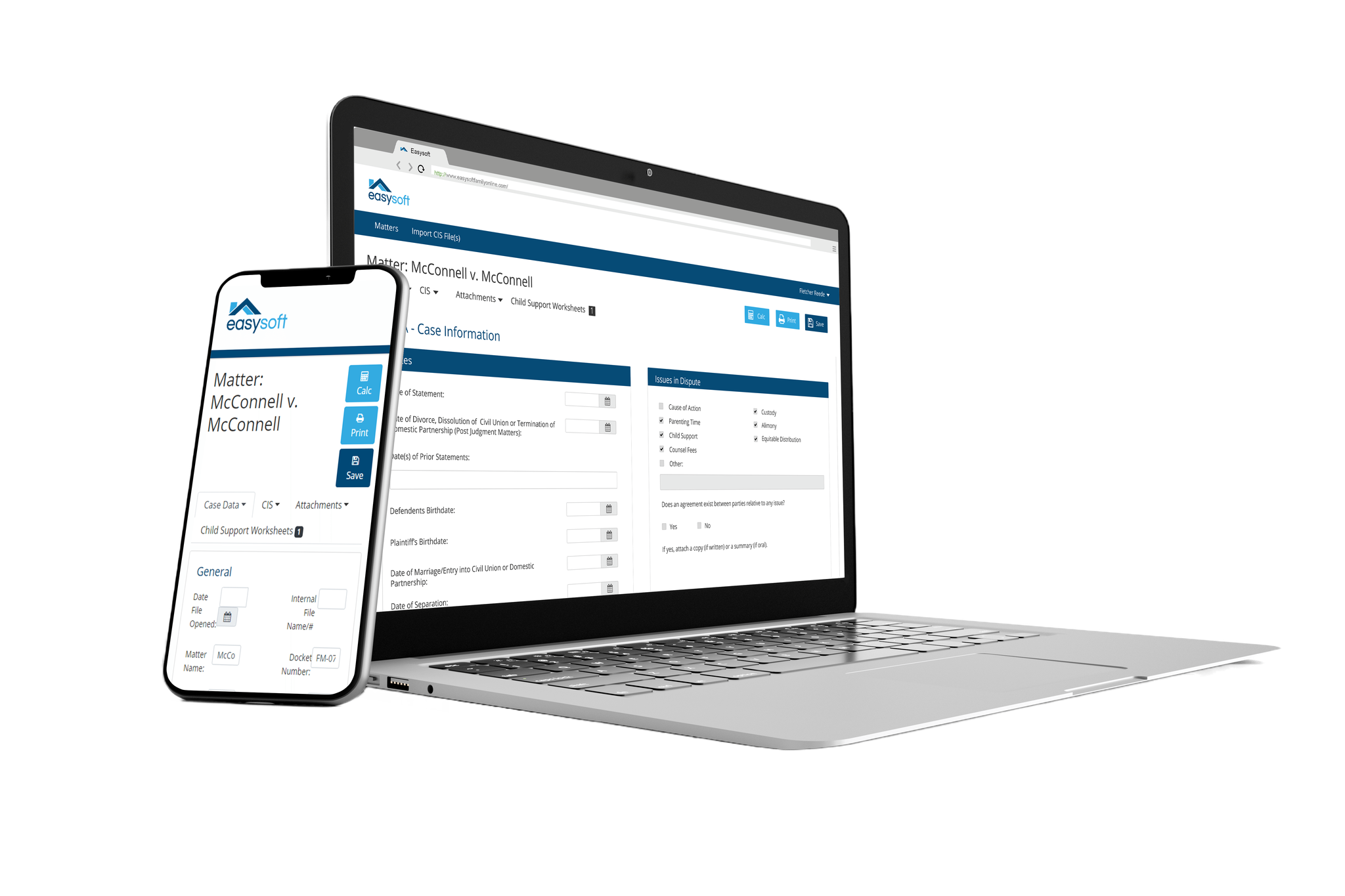 CIS Support Worksheets editable forms
Fast, easy preparation of your Case Information Statement. Case Information software is a comprehensive NJ divorce software for compliance with specific New Jersey requirements and guidelines. Used by more than 1,500 New Jersey law firms, state agencies, law schools, and paralegal studies colleges, Case Information Statement offers all of the necessary tools to easily complete Case Information Statements and divorce worksheets.
CIS is now available as a part of the Easysoft Family Law Solutions.
New Jersey's #1 Family Law Program Provides:
Most New Jersey Family Law Attorneys Use Easysoft's CIS Software
When preparing the Case Information Statement, NJ divorce software is almost mandatory. Synonymous with family law, Easysoft's CIS program is used throughout New Jersey by more than 1500 law firms, law schools, paralegal studies colleges and state agencies. Easysoft's New Jersey divorce software is used by so many family law attorneys in the state because they get all the tools they need to prepare child support worksheets and Case Information Statements in record time and in accordance with New Jersey Guidelines. "Easysoft's family law products help us work with our clients, opposing counsel, in MESP sessions, and at court hearings to reach that desired equilibrium in divorce settlements. In my 38 years of exclusively practicing matrimonial law in NJ, there has never been anything like the seamless integration of Divorce Financials and Case Information Statement programs that Easysoft provides." - Laurence J. Cutler, American Academy of Matrimonial Lawyers Fellow
CIS Software Evaluation, Pricing and Technical Support
CIS is available as part of the Easysoft software solution. All subscriptions include unlimited technical support, valid as long as your subscription is active and come with a free trial.
Click the + to read details of key features
Manipulate Multiple Worksheets and experiment with as many scenarios as you like, all within same client file. Create a worksheet, copy it, develop, manipulate and analyze another scenario! Compare as many as five worksheets side by side.
Analyze split-parenting cases easily with Worksheet Magic. Simply copy the worksheet and then click to flip CP values with NCP, and you have a complete split-parent case in less than a minute!
View all worksheet alerts and exceptions, such as PPR household income test failure or income exceeding tax/award tables, in one central location. Quickly review and make required changes instead of looking in many different places.
Edit & email all forms from within the program. Edit completed Case Information Statement, worksheets and other NJ divorce forms (20 in all) with a built-in editor. Save as Word or PDF and then email.
Analyze each party's financial status with an Assets & Liabilities Distribution Report. With Assets & Liabilities items, optionally enter equitable and proposed distribution data. A summary section will even provide parties' surplus or shortfall.
Strengthen child support and alimony negotiations with a Lifestyle Expenditure Document. CIS Part-D section provides the option to enter expenditures for husband, wife and children separately.
Add important information via endnotes. Endnotes make it extremely easy to add illustrations to important values throughout the Case Information Statement, such as documenting additional details for monthly expenses. All endnotes are numbered sequentially and shown at the end of the CIS; NJ practices can print the form with or without endnote references.
Exchange data with Divorce Financials. Share assets, liabilities and income data with Divorce Financials seamlessly. Divorce Financials is a complete system for divorce settlements, producing tax optimized alimony and child support payment scenarios. You can also automate distribution of assets and liabilities.
Easysoft Family Law Software is the most popular, easy-to-use reliable software solution for New Jersey family law practices because it is complete and offers:
Dedicated NJ matrimonial software that is up-to-date and automatically updated to New Jersey Guidelines
Parenting scenario analysis. By select differing numbers of overnights for each child to accommodate different parenting schedules you and your staff can automatically average overnights for support calculations.
Automatic withholding calculations per NJ Child Support Guidelines.
Automatic tax calculations using IX-H or Cir-E Tax Table.
Automatic tax/FICA adjustments for special income items such as business income or alimony.
Support award adjustments. The software pro-rates adjustments and allows for comments to be entered with adjustment amount details and number of children over 12 years of age.
Controlled cost adjustment for equal parenting time case. Support adjustment amount is calculated and displayed in the Comments section.
Automatic debt service calculations.
Space for last year's Income Calculations (Part C): If parties filed individual tax returns, use "Income/Tax Calc." which supports up to three W-2s for each party. If parties filed a joint tax return use "Tax Allocation" to allocate total taxes paid as a percentage of taxable income.
Income and expense conversion. Just enter amounts for yearly, quarterly, year-to-date, etc. and the program will convert the figures to the required duration values automatically.
A paycheck entry screen to compute present earned income/expense is also available.
An internal Case Notes section is available within each section so all internal case notes can be printed separately.
There is an option to save all prepared documents within the same CIS file. In addition, files can be saved as PDF or Word files.
FamilyDocs Module
Generation of case forms is an integral part of any family law practice. The FamilyDocs module can provide unprecedented automation in form generation. No need to enter and track data in multiple places. The FamilyDocs module contains the entire library of New Jersey Family Law Forms published by New Jersey ICLE (over 130 forms). You can customize any form and add unlimited number of your own forms.
Generate forms from a common set of data automatically. Centralized data entry for plaintiff/defendant/children/adversary, etc. If any corrections are necessary, just make changes in one place and regenerate document.
Produce other forms, including retainer agreements, pleadings, and orders, which will be virtually complete as soon as you select them because the program fills out the forms automatically with case data.
View merged documents on-screen with the data filled in exactly as it will print. Make any needed changes and then print or e-mail.
Add an unlimited number of your own forms or customize provided forms. Your entire workgroup can use one set of standardized forms, thus generating error-free documents consistently.
Save all prepared documents within the same CIS file. You can also save prepared forms as PDF or Word files and email from the program.
Use the built-in editor and spell checker. You are not required to have any external word processing software.
FamilyDocs is a major productivity multiplier.
Resources
Start Your Free 7-Day Trial
No downloads or software to install.
Complete this form for a quick demonstration with a product consultant to begin your free 7-day trial.
Can't see the form below? Click here or please disable your privacy blocker.