Real Estate Lawyer Software: Closing Disclosure Form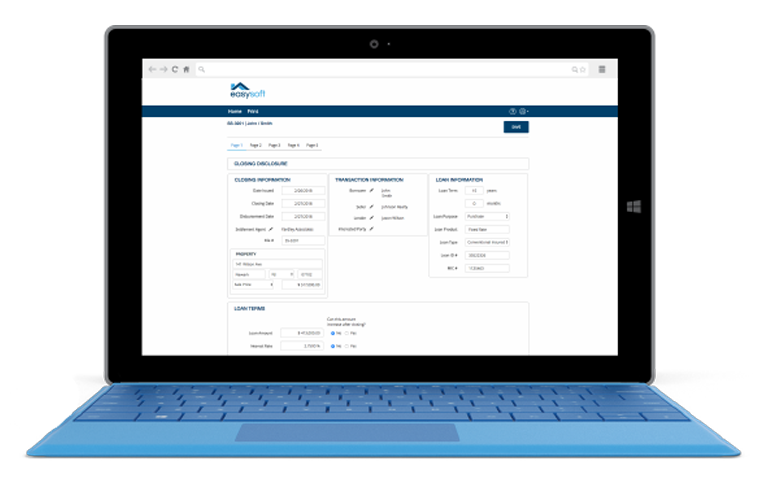 As an attorney, you understand the importance of accuracy and compliance in every aspect of your work. The closing disclosure form is one of the most critical documents in any real estate transaction, and it is essential that it be completed correctly and in compliance with current TRID standards. Real estate software specifically designed for attorneys can automate the process and calculations while assisting your firm with compliance and accuracy.
What is the Closing Disclosure and What is it Used For?
Navigating the maze of property transactions? Central to this journey is the closing disclosure for real estate. This document acts as the compass, laying out the financial terrain of your real estate transaction with clarity and precision.
Breaking Down the Principal and Payments
The real estate closing disclosure doesn't just stop at offering a bird's eye view; it dives deep. It provides a transparent breakdown of the principal and interest, laying the foundation for understanding the core of your loan. Furthermore, projected payments are detailed, ensuring prospective homeowners are well-prepared for their financial journey ahead.
The Importance of Compliance and Communication
Ensuring closing disclosure compliance is paramount. This isn't just a piece of paper—it's a document that ensures every regulation and standard is met. Incorporated within it are essential contact information details, that are needed to provide smooth communication between all parties.
Costs and Payments
From understanding loan costs to gaining insights on partial payments, the closing disclosure form in real estate transactions is exhaustive. It clarifies every penny involved, reducing chances of unexpected financial surprises.
Protecting Client Interests
Property rights are safeguarded with details regarding title insurance, ensuring that the buyer's investment remains protected. In the backdrop, the escrow account holds pivotal funds, acting as a secure placeholder till deals reach their culmination.
Finalizing the Deal
The last piece of the puzzle? The cash to close section. As a straightforward representation of the final sum, it empowers buyers with knowledge, allowing them to cross the finish line with confidence.
Easysoft's Closing Disclosure Software
Easysoft's real estate software is designed for law firms and title companies. It offers an automated Closing Disclosure form that makes it easy to create and manage your files in less time and from multiple devices. With this closing disclosure form software, real estate lawyers can easily create and track all disclosures required by law, and can ensure that each closing disclosure is accurate and compliant. This means that your clients can close on their transaction with confidence, knowing that everything has been handled properly.
Easysoft's real estate solution for law firms, which includes the real estate closing disclosure form and many other features, is the best solution for attorneys who want to streamline their property settlement process and ensure compliance with all applicable laws.
Key Features
Easysoft's closing disclosure technology within our real estate software, makes it easy to create and manage your legal transactions. It allows your real estate closings to be fully TRID Compliant throughout the closing process. Our software is designed especially for attorneys and it stays up-to-date with all Truth in Lending Act (TILA) - Real Estate Settlement Procedures Act (RESPA) Integrated Disclosure (TRID) reporting requirements. Our intuitive Closing Disclosure form prompts you to enter figures into the correct form fields, and therefore:
Why Attorneys Prefer Easysoft Legal Software's Closing Disclosure
When it comes to real estate closings, Easysoft Legal Software's Closing Disclosure features are some of the most popular among attorneys.
Ensuring TILA-RESPA compliance is essential in any real estate transaction, and our closing software helps to automate the document and calculation process, making it faster and easier for all parties involved. Our real estate law software is designed for attorneys and is fully TRID compliant, so you can be confident that you're meeting all the required standards. Additionally, our simple 1099-S e-filing integration makes it easy to file the necessary paperwork after the closing is complete. All of these features make our software an invaluable tool for any attorney or law firm working in the real estate closing industry.
The Importance of an Accurate Closing Disclosure Form
The Closing Disclosure form is a multi-page document that outlines the final terms of a mortgage loan. It includes the loan estimate and amount, interest rate, monthly payments and balloon payments, insurance premiums, prepayment penalties, and closing costs. Under the Truth in Lending Act, lenders are required to provide borrowers with a Closing Disclosure at least three days before closing. If the Closing Disclosure is not received on time, or if it contains errors, the closing may be delayed or canceled.
Errors on the Closing Disclosure can result in significant delays or even the cancellation of a mortgage loan. In some cases, borrowers may be required to re-disclose their loan terms and reschedule their closing date.
In other cases, lenders may be unwilling to move forward with the loan. As a result, it is crucial that real estate attorneys take care to review the Closing Disclosure carefully and ensure that all of the information is accurate. Automation software can simplify this process and reduce errors so real estate law practices can generate closing disclosures and other documents with confidence.
By using a trusted closing software, real estate lawyers can help to avoid complications and delays that could jeopardize the success of their clients' transactions.
Start your free 7-day trial today and see why Easysoft is the best real estate software for lawyers.
Start Your Free 7-Day Trial
No downloads or software to install.
Complete this form for a quick demonstration with a product consultant to begin your free 7-day trial.
Can't see the form below? Click here or please disable your privacy blocker.