The Benefits of 1099-S Filing Automation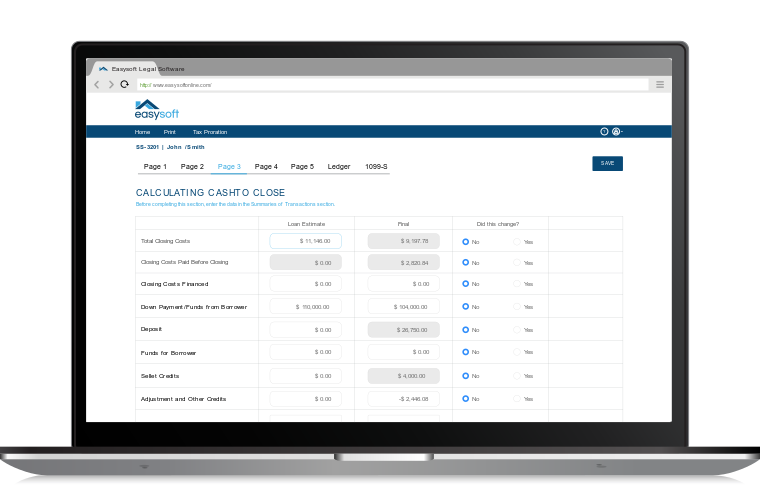 Electronic 1099-S Filing Benefits
As the settlement agent, you know you're responsible for accurate 1099-S filings. Currently, whether you or your CPA submit a 1099-S by typing on an IRS form or by faxing/e-mailing to third party providers, re-typing 1099-S data exposes you to human errors and inaccurate filings. In addition, when you wait until the end of the year to compile and submit forms, you also risk discovery of missing or misplaced information.
Our 1099-S Filing Service provides IRS compliant, automatic, accurate paperless 1099-S reporting. Filing 1099-S forms from Easy HUD eliminates re-typing and allows you to submit IRS compliant 1099-S forms automatically and you get immediate confirmation.
Settlement agents who use Easy HUD assemble a paperless 1099-S using settlement data already available in Easy HUD automatically and accurately, with one mouse click. All the required 1099-S fields are validated automatically for completeness and accuracy. Once forms are submitted and accepted, you immediately receive a confirmation number. Your 1099-S forms will be filed with the IRS and a copy will be mailed to the seller on an official IRS form, all for just $10 per filing. All your IRS reporting requirements are complete.
Save Time! Eliminate Risk! Improve Profits! Achieve Full IRS Compliance!
How 1099-S Electronic Filing Works
Once a closing is complete, open the closing file, click on the 1099-S tab, and select "1099-S" from the dropdown.
You will be logged into InfoTrack and the information from the closing file will automatically be populated into the form.
Review the information and fill in any missing data (such as seller's forwarding address).
Click "Submit".
Who Uses 1099-S Electronic Filing Service?
Hundreds of settlement agents, real estate lawyers, and title agencies currently use the service year after year. For more than 35 years, Easysoft real estate closing software has been simplifying the entire closing process with automated HUD and CD settlement statement preparation, check disbursement, and 1099-S e-filing. Our integration with InfoTrack makes it easy to file proceeds from real estate transactions with the IRS as you close.
Enroll today and start submitting 1099-S forms immediately! It's simple and saves time. Join hundreds of settlement agents and attorneys who e-file and give Easysoft's 1099-S integration a try!
Electronic 1099-S Filing Service
Once you have submitted your 1099-S forms electronically, there is no need for manual tracking. From the Easysoft program, just click the "1099-S Submission Report" button. Insert a date range (e.g. 01/01/2022 to 12/31/2022) and print a report from Easysoft Legal Software web-based filing service.
The Submissions Report makes it easy to reconcile your 1099-S form log at year-end or anytime during the year to ensure that all required 1099-S real estate transaction filings are complete.
Find out why settlement agents and title companies rely on Easysoft Legal Software's 1099-S Filing Service. Enroll today and start submitting 1099-S forms immediately!
Start Your Free 7-Day Trial
No downloads or software to install.
Complete this form for a quick demonstration with a product consultant to begin your free 7-day trial.
Can't see the form below? Click here or please disable your privacy blocker.