The Benefits of 1099-S Filing Automation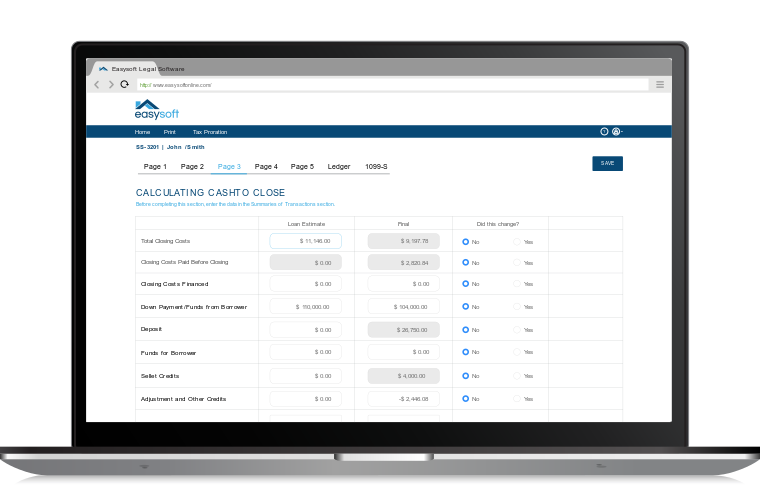 Under the CFPB's TILA-RESPA Integrated Disclosure (TRID) rule, the Loan Estimate Form is necessary in real estate transactions. Learn about this new form and how Easysoft can automate the entire real estate closing process.
Overview
Before the new TRID changes were implemented in October 2015, consumers/borrowers typically received two federal disclosure documents outlining the terms and costs of the loans they were considering: the Initial TIL Disclosure and the Good Faith Estimate. Two disclosures were also received at the time of the closing: the Final TIL Disclosure and the HUD-1 Settlement Statement.
The TRID implementation combined the mortgage disclosure forms, thus creating the Loan Estimate Form and the Closing Disclosure Form. The Loan Estimate Form is typically prepared by banks or lenders and is issued to the borrower. The Loan Estimate Form must be provided by the lender within three business days of receiving a loan application.
Loan Estimate Form FAQ's
What kind of information is included on the Loan Estimate form?
The Loan Estimate Form is required to be delivered by hand or mailed to an applicant/borrower within three business days of the application. The Loan Estimate Form includes the following information:
Three-page form
Estimated interest rate
Monthly payment amount
Estimated insurance and taxes
Terms of loan
Loan type
State law provisions
What is the benefit of the Loan Estimate Form to the consumer?
The Loan Estimate Form is received after a consumer applies for a loan. It is not an acceptance or denial of the request for a loan; it simply gives the consumer more information on what is offered to them before they move forward with the loan. Please note that those who applied for a loan before October 3, 2015, will not receive a Loan Estimate Form.
Easysoft's Loan Estimate Form is part of our Real Estate Closing Solution and makes generating loan estimate documents easy, accurate, and fully compliant with the TRID guidelines.
Features
Easysoft's Real Estate Closing Solutions keeps all aspects of the real estate closing process, including the Loan Estimate Form, simple and accurate. The loan estimate sheet features include:
Complete Loan Estimate Form
Ability to import all data from the Loan Estimate Form to the Closing Disclosure Form
View a full list of Loan Estimate & Closing Disclosure features
Easysoft Loan Estimate Form
At Easysoft, we understand how important it is to generate a loan estimate form quickly and accurately. That's why we have included this form feature in our Easysoft real estate software. Our software allows you to quickly and easily generate the Loan Estimate Form with just a few clicks, creating accurate mortgage loan estimate documents.
Because it's included within the software, Easysoft reduces the likelihood of your loan estimate form being forgotten or overlooked. Easysoft makes it easier to close real estate transactions.
Closing Disclosure
The Closing Disclosure is another important form that must be provided to the borrower prior to closing. This form provides borrowers with an updated estimate of their loan costs based on the terms of the loan. The Closing Disclosure is a separate document from the loan estimate form.
Easysoft can also generate your Closing Disclosures, so you can be sure that you're providing accurate information to your clients. With Easysoft, you can rest assured that you're meeting all of the requirements for real estate closings.
Automate the Entire Real Estate Closing Process
With Easysoft, you can automate the entire real estate closing process. In addition to providing an easy-to-navigate Loan Estimate Form, Easysoft also provides a Closing Disclosure Form, which is also required under the TRID rule.
With this form, you can provide the consumer with an accurate estimate of the loan terms, closing costs, and fees so that they can accept the loan. With Easysoft, you can easily complete both forms and ensure accuracy in the entire real estate closing process.
Why Automate?
By automating your documents with Easysoft, you save yourself time and frustration while ensuring you remain compliant and accurate.
As a Closing Disclosure generator and loan estimator, Easysoft eliminates the need to fill out forms manually, making sure that no important information is forgotten or overlooked. Moreover, our software offers real-time updates, so you can ensure accuracy in your documents at all times. Automating your documents with Easysoft is an effective and efficient way to streamline your real estate closing process.
Start Your Free 7-Day Trial
No downloads or software to install.
Complete this form for a quick demonstration with a product consultant to begin your free 7-day trial.
Can't see the form below? Click here or please disable your privacy blocker.